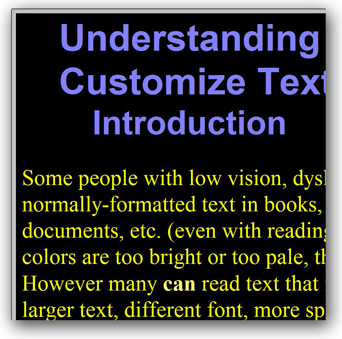 About the TAdER Project
Overview
The TAdER Project aims to encourage product managers to include specific text customization functionality in their products (including Adobe Reader for PDF, web browsers, e-book and EPUB* readers, other 'user agents', and content) by:
Raising awareness and understanding of users' needs among tool developers, standards developers, content providers, and policy makers.
Providing suggestions to tools developers and content providers on including specific text customization functionality.
Providing information to support standards developers and policy makers to include specific text customization requirements.
There needs to be universal design of these settings for all computers around the globe, so that all computers—regardless of where you are—are accessible to people who are visually impaired, dyslexic, older, have neurological issues, etc.
— Survey comment
Phase I — Completed
The first phase of the TAdER Project focused on researching, analyzing, and communicating users' needs. It explored:
What aspects of text display do people with low vision, dyslexia, and other conditions that impact reading need to be able to customize in order to read electronic text effectively?
What information on users' text customization needs is provided in existing literature?
What evidence supports including specific aspects of text customization in accessibility standards and guidelines?
How can users' requirements be communicated to product designers, developers, managers, etc. and to developers of accessibility standards and guidelines? What will help convince them to include text customization in their products, including standards and user agents?
Phase I outputs provided on this TAdER website include:
Phase II
We are seeking funding and support for Phase II to provide:
More data:

User Research Survey Data — Analysis and publication of the data from the User Research Survey on Changing Text Display for Easier Reading. A primary goal is to help prioritize the aspects of text display that users need to customize.
Research — A study to quantify how people's answers on the Survey change after learning how to customize more aspects of text display, which is expected to demonstrate that some aspects of text customization are rated more important when people know how to implement them.
Literature review — Publication of a literature review to encourage informed additional research based on existing literature in this area.
User agent support — Documentation of user agent (PDF viewers, web browsers, e-book and EPUB readers) support for text customization to both encourage user agents to provide better support, and to provide users data to know how certain user agents support their needs. (General information of Support for Text Customization in already available; a support rough proof-of-concept page shows how details for specific products might be provided.)

More awareness & understanding:

Guidance for context providers — Specific guidance such as WCAG Techniques on what websites should do to support text customization.
Quantifying user needs — A resource to help communicate the large number of people who need to customize text in different ways.
Text customization examples — An interactive collage that communicates the range of text customization that users need. (From How I See It is a placeholder with just a few examples so far.)
Videos — Short, engaging videos that introduce the issues around text customization and present real-life examples of peoples' need to customize text.
Outreach and dissemination — Specific articles and activities to encourage tool developers, standards developers, content providers, policy makers, people with disabilities, and accessibility advocates to help advance text customization.
If you or your organization might be interested in contributing to TAdER, please contact Shawn Henry at projects@uiAccess.com or +1-617-395-7664 for a detailed project proposal.
Phase III
Activities planned for Phase III include:
Analysis of optimum text display for a range of users in order to develop recommendations for a set of text display profiles for users to choose from. Note: This could be the basis of simple options for text customization; however, advanced options should always be made available for people with the needs and skills for more specific customization — as James says, "I really need to be able to set the colours myself, presets don't work. Someone else's idea is useless."
Research to quantify issues with horizontal scrolling to read blocks of text, focusing on implications for test validity in educational testing.
Redesign the TAdER website for visual design and coding best practices.
Work in Progress
The TAdER site map links to some work in progress and rough notes on specific topics.
For more information
Shawn Henry
+1-617-395-7664
projects@uiAccess.com
---
*EPUB = EPUB is an open electronic book standard developed by the International Digital Publishing Forum (IDPF), an international publishing industry body. Specifically, it is a distribution and interchange format standard for digital publications and documents that is based on Web Standards.
---
Note: Not W3C WAI
Please be careful in referencing the information on this tader.info website and e-mails from uiAccess.com as from the individual Shawn, not W3C or WAI. Although Shawn also works part-time for the W3C WAI, these are not W3C WAI publications.
Some information on this website may be included in WAI material published on the W3C website — that you can reference as WAI info.